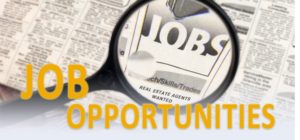 The City of Dayton/Bellevue Fire Department is accepting resumes for the position of
FIRE CHIEF
The Dayton/Bellevue Fire Department provides fire prevention and suppression, and emergency medical services for the two cities covering approximately 3 sq. miles and 11,000 residents.
Resumes should be submitted by 4:00PM on June 14, 2018to the attention of Keith Spoelker, Bellevue City Administrator, located at 616 Poplar Street Bellevue, KY 41073.  All resumes should include a cover letter and a list of references. The Dayton/Bellevue Fire Department is an equal opportunity employer.
---
The City of Dayton, KY is accepting applications for the position of
PUBLIC WORKS LABORER
The City of Dayton, Kentucky is now accepting applications for one full-time employee in the public work's department.  Under the direction of the Superintendent of Public Works, this candidate will help in the maintenance of roads, sidewalks, parks, city buildings, and property. Applicant must have a valid driver's license.  Applications available at the City Building, 514 Sixth Ave., Dayton, KY  41074.  Applications must be submitted by May 25th, 2018 at 5:00 PM.
Link to City of Dayton's Employment Application