« Back to Events
This event has passed.
Event:

Northern Kentucky Homefest

Start:

October 3, 2015 8:00 AM

End:

October 18, 2015 6:00 PM

Cost:

$10

Organizer:

Updated:

September 28, 2015
Venue:

Address:


200 Manhattan Harbour Blvd

,

Dayton, KY

,

41074

,

United States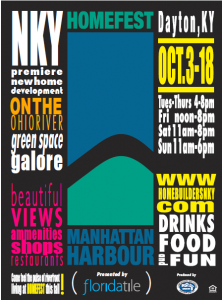 October 3 – October 18
Tuesdays – Thursdays 4 – 8pm
Fridays Noon – 8pm
Saturdays 11am – 8pm
Sundays 11am – 6pm The homes featured in HomeFest Manhattan Harbour are as unique as the community.  There are soaring views of the river and skyline of Cincinnati. The builders have taken every opportunity to maximize the fact that these homes are on the riverside.  The homes are thoroughly decorated and there are special features that provide outstanding views of the setting. Party decks, bountiful windows and outdoor spaces are all perfectly situated to capitalize on the lifestyle that Manhattan Harbour abundantly provides.
To say there is something unique about HomeFest Manhattan Harbour, presented by Florida Tile, is a severe understatement.  This community is one of a kind, not only to our region, but in the Nation.  For nearly a decade the site was engineered to make it possible to bring you a stunning community on the river side of the floodwall in Dayton, Kentucky.  There are literally no other opportunities in our area to experience riverside living in a new community other than Manhattan Harbour.   The future of the entire community is as exciting as it gets.  There will be multifamily options, restaurants, shops and other amenities in the years to come as this massive project continues.
Beyond the development itself we have worked for over a year to bring a celebration not only of new homes and this gorgeous community, but an event like non other in our region.  Visitors will experience entertainment throughout the duration of the show.  There will be live music concerts, family days, food, drinks and fun.
We hope that you thoroughly enjoy all that HomeFest Manhattan Harbour, presented by Florida Tile, provides you.  Consider coming back multiple days to catch the various live music acts, fun, drinks, food and enjoyment the show provides you.
Schedule of Live Concerts:
October 3rd 6 – 8pm

PARTYTOWN
October 4th 4-6pm

Naked Karate Girls
October 9th 6-8pm
Marsha Brady


October 10th 6-8pm
Moment 44
October 16th 6-8pm

4th day echo
October 17th 6-8pm
Amy Sailor Band
Schedule of Events:
Saturday, October 3
Military Appreciation Day; All Military and their guests may purchase tickets at the door for $5 each
Arteflame Grill cooking demonstration by FIREQUE
Tuesday, October 6
Ladies Night – Half price tickets – music, jewelry, sweets, wine for the ladies
Live art demonstrations by Billy Tackett Studios
Wednesday, October 7
11-3:00 REALTOR™ Day/Local REALTORS™ must RSVP prior to event (bring your business card)
Live art demonstrations by Billy Tackett Studios
Arteflame Grill cooking demonstration by FIREQUE with guest chef Josh Sweeney
Thursday, October 8
Live art demonstrations by Billy Tackett Studios
Friday, October 9
Live art demonstrations by Billy Tackett Studios
Saturday, October 10
Taste of The River Cities/local restaurants, food trucks, beer and wine
**City of Dayton Kite Festival 12pm-5pm**
Live art demonstrations by Billy Tackett Studios
Arteflame Grill cooking demonstration by FIREQUE with guest mixologist
Sunday, October 11
Taste of The River Cities/local restaurants, food trucks, beer and wine
Live art demonstrations by Billy Tackett Studios
Arteflame Grill cooking demonstration by FIREQUE with guest mixologist
Tuesday, October 13
Ladies Night – Half price tickets – music, jewelry, sweets, wine for the ladies
Live art demonstrations by Billy Tackett Studios
Arteflame Grill cooking demonstration by FIREQUE with guest mixologist
Wednesday, October 14
Live art demonstrations by Billy Tackett Studios
Thursday, October 15
Thursday is the New Friday/Craft beers from local breweries
Saturday, October 17
Family Day/Activities for children
**City of Dayton Fall Festival 4pm-10pm**
Sunday October 18
Arteflame Grill cooking demonstration by FIREQUE with guest chef
iCal Import
+ Google Calendar